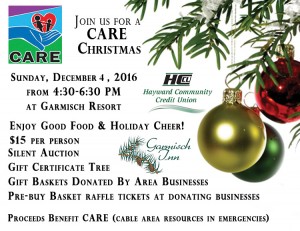 Please join us Sunday, December 4th, for a CARE Christmas. 
C.A.R.E (Cable Area Resources in Emergencies), in partnership with the Cable Area Chamber of Commerce, and Garmisch Resort, would like to invite  you to bring your family and friends to join in the fun at this years "A Care Christmas".
Local businesses and organizations  have donated beautifully decorated gift baskets to be part of a silent auction that will held at Garmisch on December 4th from 4:30pm – 6:30pm.
There is also a wide selection of fanciful baskets on display at local businesses, for which you can buy raffle tickets, with the raffle drawing to be held at the Christmas Celebration as well.
All of the money raised from these two  activities will support C.A.R.E.  We  invite you to come celebrate the magic of A Christmas in Cable!
Who is CARE?
We live, work, and play in and around the Cable area.  It is our goal and mission to help our friends, neighbors, and fellow residents in times of need.
What does CARE DO?
Our goal is to reach out to those in need by providing a helping hand for those who are struggling in times of crisis.
How Does CARE HELP?
CARE is able to help our friends and neighbors in our local areas.  We are able to do so through donations from organizations and businesses, as well as those living in and around our communities.  All of the monies received go back into our community to help our fellow neighbors, friends, and residents of our local communities.
What areas does CARE SERVE?
We help our friends and neighbors in and around Cable, Drummond, Barnes, Namakagon, and Grand View.